Board of Directors and Officers
The Worthy Village Team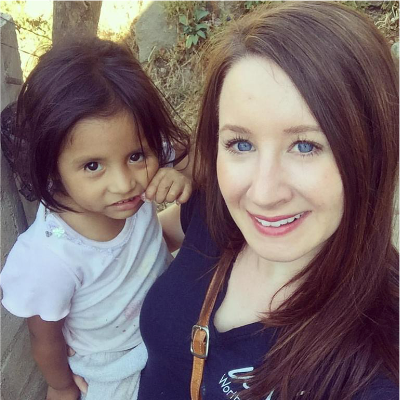 Julia Rayberg
CEO, Director Julia is a Co-founder of Worthy Village. She graduated from the University of Massachusetts Dartmouth in December 2015 with a BS in Business Marketing. While traveling to Guatemala in 2013 with a professor, Julia was exposed to extreme poverty, and claims that it changed her life forever.
Today, Julia works on a daily basis to build Worthy Village and to assist the impoverished communities of Guatemala the best she can. She travels back to Guatemala very often and soon plans to live there full-time. Her hopes are that one day she can be a small part of making a big difference in Guatemala.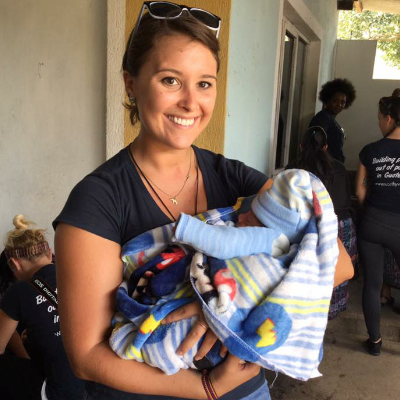 Amanda Lanigan
Vice President, Director Amanda Lanigan is a history and continuing education teacher who lives and works on the South Shore of Massachusetts. Amanda studied History, political science, and education at Bridgewater State University and has worked with multiple student exchange programs in Cape Verde, Italy, and Mexico.
Amanda was involved with volunteer work in Guatemala and was deeply touched by the passion, work ethic, and community of all those involved. Upon returning home, she immediately began making an effort to bring opportunity into the organization, got recognition from the United Nations, and continues to work on a daily basis to build Worthy Village. Amanda is deeply passionate about fostering cultural exchange and service learning opportunities for young people and adults.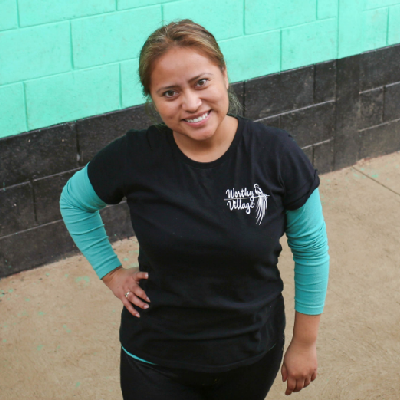 Mayra Perez
Director Mayra is a Co-founder of Worthy Village. She has her BS from UMass Dartmouth in Human Resource Management with a minor in International Business Management. Mayra grew up in the village of Santo Domingo, Jalapa, Guatemala until age nine. She was exposed to a life of poverty, as her family struggled constantly with money. Mayra's family was able to move to the United States in 1995 and she finally was granted citizenship in 2012.
In 2013, Mayra took students from UMass Dartmouth to Jalapa, Guatemala, in hopes of inspiring them to make positive changes to a village she once called home. The trip left a serious impact on all who traveled, as one of those students were Julia Rayberg.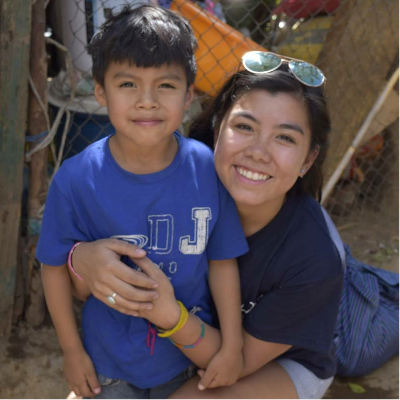 Lena Tran
Marketing Director Lena has been working as Marketing Director on a number of projects and campaigns we have going on here at Worthy Village. Lena just graduated from the College of the Holy Cross this past spring with a degree in Psychology and Pre-Health Professions. Currently she is in the process of applying to medical schools while she works for us and the local hospital in patient advocacy.
Lena feels that healthcare goes above and beyond science and technology alone. In order to be a good healthcare provider, she believes she must first understand the human condition and what it means to be humble and compassionate towards each and every person she comes across regardless of economic and social stature. Lena works running the WV Ambassador Program, Bracelet Campaign, and runs Voluntourism Trips for Worthy Village from time to time.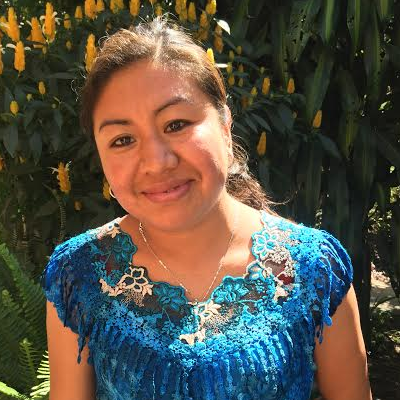 Regina Victoria Joj Suy
Director of Social Work, Victoria grew up and currently resides in Panajachel, Guatemala.  She is in her last year to obtain her degree in Social Work from the University Manano Galvez of Solola. Fluent in English, Spanish and Kaqchiquel, Victoria assists the organization with translation, coordinating projects around the lake, and runs our Volunteer Day Program on Lake Atitlan.
Victoria's dream has been to help her community come out of poverty and implement developmental strategies to do so. She has been teaching Spanish since 2008 and plans to continue to use her knowledge and strong-will to follow the Worthy Village mission.
Sylvia Mateo
Social Worker, Silvia was born and raised in Panajachel, Guatemala. She has a Masters degree in Social Work from the Universidad de Mariano Galvez Solola. She now has four years experience working as a Social Worker in orphanages and safe homes of Guatemala. She has a very strong passion for her work and consistently demonstrates her compassion and love for this work.
Silvia works both in the office and in the field, assisting the Director of Social Work and expanding on our programs. She is eager to bring her experience and ideas into Worthy Village to make positive, sustainable impact in the communities on Lake Atitlan.
Byron Rabe
Project Coordinator Byron is an internationally recognized artist, having representing his work throughout Europe, Central America, Asia and the United States. Byron has studied Maya Shamanism for 16 years and has a degree in Television Production from the San Carlos University of Guatemala.
Byron resides in Panajachel, Guatemala where he works to coordinate and manage the Worthy Village local projects, and bring opportunity into the organization. Fluent in three languages, Byron can speak English, Spanish, and French. Byron's strong passion and dedication to protect the culture of the natives, while boosting their economy makes him a perfect addition to Worthy Village and its mission.
Gary Rayberg
Director Gary is an entrepreneur who lives and works on Boston's South Shore. He is the President of ROI Corporation of Weymouth, MA. Gary was first exposed to the conditions of Guatemala when he travelled there in 2006 as President of the Weymouth, MA Rotary Club. Gary, along with several other Weymouth Rotarians journeyed to a School in the Guatemala City dump, Safe Passage. He still serves on a committee raising funds to make improvements to that school.
When asked to return to Guatemala in 2013 with Worthy Village, he jumped at the chance and was again moved beyond words by the wonderful people of Guatemala and the intense poverty he saw.
Today, Gary's sits on the Board of Directors to provide business advice and to support the cause of Worthy Village in any way he is asked to.
Mark Dufton
Director Mark Dufton has a Bachelor's degree in Electrical Engineering from the U.S. Military Academy at West Point and an MBA from UMass. Dufton is the current CEO of DJM Real Estate and Managing Director for Dinosaur Capital Partners, a Boston-based real estate investment and development company. Mr. Dufton served five years in the U.S. Army Corps of Engineers, where he attained the rank of Captain. He is also a member of the International Council of Shopping Centers and Turnaround Management Association.
Dufton sits on the Worthy Village Board of Directors providing business consulting, and advice in retail and wholesaling. Dufton took on his role as a Director of Worthy Village because of his desire to give back to the less fortunate, and to use his experience to help build the organization.
Christy Zuccarini
Director Christy Zuccarini is fundraiser and photographer who lives in Baltimore City, MD. Christy studied cultural anthropology, photography, and French at Goucher College. She earned her M.A. in Community Art from the Maryland Institute College of Art (MICA).
Christy traveled with Worthy Village in January of 2015 to document the organization's work via photography and film. Shortly thereafter, she joined the Board of Directors to help guide their fundraising and strategic planning efforts. Christy has a particular passion for supporting independent artists and is thrilled to lend whatever support, ideas, and skills she can to help Worthy Village make a major impact in the lives of the people it serves.
Jim Hickox
Director Jim holds a bachelor's degree in business management from the University of Massachusetts Dartmouth. He also earned an MBA from Anna Maria College. Jim worked as an adjunct professor at Newbury College in Boston where he taught his specialty, strategic planning in business. In 1982, Jim Hickox founded Apple Corps which cleans two million square feet of commercial office space every night.
Jim sits on the Worthy Village Board of Directors offering his expertise and knowledge of strategic planning. He acts as an advisor for business advice, support and knowledge. Jim is responsible for working closely with the CEO to develop strategic plans, as well as the core business plan.
Jay Nuss
Director Jay is the founder and President of Jay Nuss Realty Group, LLC. He holds a Bachelor of Science degree from Northeastern University and is a graduate of the Realtors Institute and has earned the CRB – Certified Real Estate Broker Manager – designation.
When not helping clients find their ideal office space, Jay is actively involved in many organizations including having been the past chair of the Business Council, the Braintree Rotary Club, the Knights of Columbus and formerly served on the Braintree Zoning Board of Appeals. He had been the Vice Chairman of the Work, Inc. Board of Directors for many years and is active in the Northeastern University Graduate Honor Society, having been a summa cum laude graduate. Jay is on the Board of Directors of Worthy Village where he provides business advice and support to the organization.
Michaela Dunn
Chairwoman of Friends of WV Committee Michaela works in a consulting capacity assisting in the research of boutiques and shops to sell Worthy Village Products as well as promote Worthy Village and fundraising for trips. She is also an active volunteer with the Friends of WV Committee. She is a Bridgewater State University Alumni of 2011 and 2013 with a Bachelors in Spanish and a Masters in English/Writing with a TESOL Concentration. Michaela's study travels include Mexico, Nicaragua, Costa Rica, and Hawaii where she learned about Fair Trade Organizations, Organic/Natural Farming, Geology, Environmentalism and Social Justice, experiences that had a remarkable impact on her outlook of the future.
Today, Michaela works Full-time at MEDITECH, Part-time as the Head Event Coordinator for Patterson Creations and assists Worthy Village as much as possible to improve the impoverished communities of Guatemala. As a multicultural and multilingual individual, she believes that the power of education and drive for a better world, can create empowerment, accessibility to resources, and compassion for the world.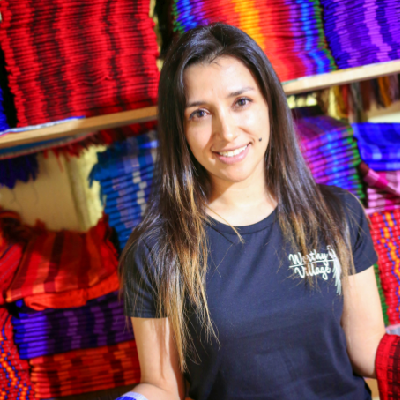 Monica Sanchez
Research Executive Monica Sanchez works as a Worthy Village Research Executive. She resides in the city of Quetzaltenango, Guatemala. With a Bachelor's Degree in Marketing and a minor in International Trade from the University Rafael Landivar, Monica brings hands on experience as she has much experience in sales, previously managing an international sales company in Guatemala City.
Today, Monica does Worthy Work conducting research on products, managing business in Guatemala, and assisting in the operations of the Worthy Women. Monica is known to always act with professionalism and finds importance in giving the best of herself to serve others.
Cinthya Anzueto
Research Executive Cinthya works as a Research Executive for Worthy Village. Residing in Guatemala, she has her degree in International Relations from Rafael Landivar University, and is a Sworn Translator authorized by the Ministry of Education of Guatemala.
Cinthya fell in love with the mission of Worthy Village when she volunteered during a trip in 2014. She saw an opportunity to create and boost the work of different communities in Guatemala, and also provide them support to live a life they deserve. Today, Cinthya works hands-on to conduct research, as well as manages and promotes fundraising and PR in Guatemala